Entry 2
Wow, 27 comments already?! Thanks so much all of you, and thanks Donna for letting people know that I'd got a new journal. You're a star!
I'll start adding journals to alerts again.
Just got back from my friend's house. She's been like a rock to me over the last couple of weeks. We had chicken wraps. I now LOVE those things. I just throw bits of everything on, roll 'em up and enjoy..lol! I might have to cut down on the mayo though..:-)
I watched an interesting programme tonight about identical twins. It focused on a pair of French female twins, both in their 30's I think. It told how dependant they've become on each other. Both have had eating disorders, but one was extremely anorexic. Somewhere along the way, they've become so obsessed by routine and eating habits that they have to split EVERY crisp (potato chip) in half and have an equal amount of everything!! It showed us a huge argument between the two because one twin didn't want as much to drink as the other twin. We're talking like, a tiny bit of water or something. It was quite sad to watch.
Also, toward the end, one twin wanted the other to eat herself fat so that she could feel more beautiful in herself. It's awful. I think it's all about mind programming and breaking routines. That's what they need, but I guess it's easier said than done.
Tomorrow's the big day. Mine and Ant's big 'First date'. Not sure whether to go for a meal first, then cinema, or vice versa. Which do you think? lol! It also feels a bit strange 'cos I know that this is our first time out together since we split up, but because we've had 5 years together, I'm not sure how to act. He knows me so well. Do I act as I always did, or should I try and make things new and different?
Also, should I be the dominant one in the date, like pull out the chair, hold open the door...etc, or is that weird?! I mean, I sometimes forget that me and Anthony are a 'gay couple'!! To me, we're just me and Anthony, you know what I mean? lol! It's not like we obsess about being gay. We don't do gay clubs, we don't focus on gay issues in particular. It's just like Ant's my girlfriend.....I couldn't explain all of this properly if I tried..lol! I don't know. Since we first met, I immediately felt like the protector of us two. Like, if anyone started a fight with us, I'd step in front of Ant and sort it out without him getting involved. That's just the way it's always felt, and now I'm all confused. Why did I assume this role, why does there have to be a dominant one in the relationship, why do I forget that we're a gay couple, and should I make it more of an issue?!
I have no idea.....I'm probably over analysing things again, as always..lol!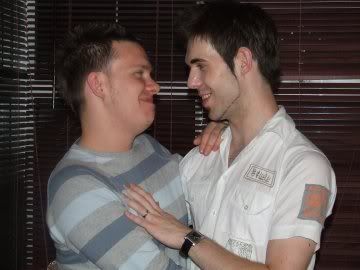 Hope you're all well out there,
Lv Ste
xx