Entry 3
Hey everyone!
Just thought I'd let you all know how our 'first date' went. It was BRILLIANT!!
We met up at Ant's parents place (where he's living for a while) and we played on the computer for a while, which was weird cos I haven't played the old 'Mega Drive' system for years! That was fun! Then I played on a hand held device known as a 'Bop it'! Do you know what they are? If not, they're highly addictive and I got the highest score that the machine had ever got. It was only 137 points, but it was still the highest it had ever got..lol! (I'm noting my score in here as Ant's brother's now in direct competition to beat me, so this is just to remind myself...137!..Read it and weep Craigy boy!!)..lol!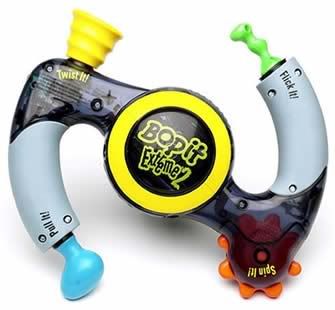 'Bopit'
Anyways, I did something which was strange for me today. I held Anthony's hand in public as we walked down the street in town, and I even kissed him in front of everyone. Ok, this might be a common thing world wide now, but we've never done it before, and that used to really upset him and I didn't realise how much! Basically, I've never been a big fan of public displays of affection anyway, even when I had a girlfriend as a teen, but showing it in a gay relationship was terrifying to me. Don't get me wrong, I wasn't ashamed of Anthony and I'm not ashamed of being gay, cos if someone asked me in the street, I'd just tell the truth and say 'Yes I'm gay, and?', but I was always a believer of not 'rubbing it in people's faces'. I guess I think that if the wrong crowd sees us and doesn't like it, I'd rather not have to fight my way out of something, or see Anthony get into a scrap with these people either, so it just seemed easier to NOT do it, but I have to admit, I felt a great sense of freedom today as I kissed him as we waited on a crowded platform for a tram to the cinema. I didn't even look round to see if anyone was watching. It just wasn't an issue. Holding his hand as we walked down the street was amazing too. It's something so simple, but it was SO worth it just to see the smile beaming from Anthony's face. It was incredible to see how this one simple act made him so happy. I should have done it a long time ago!
We went to see 'Spider man 3'. I'm not really a fan of those movies, but I enjoyed this one. The huge helpings of candy and Popcorn helped a lot too. £3.10 for a small bag of popcorn! If I'd seen the price before I picked em up, I wouldn't have bothered, but I only found out how much it was at the till, and I felt stupid changing my mind..lol! Extortionate I tells ya!!
We went for food afterwards. It wasn't anything fancy, just a burger and chips, but I was hungry enough to eat anything..lol! I wont tell you how the night ended. That's a secret...;-)
All in all, it was a GREAT day, and hopefully a glimpse of how me and Ant are going to be from now on, especially with both of us working (fingers crossed that I get a job). Splitting up made me realise how much I truly love him, and I intend to let him see that.
Hope you're all ok today, and thanks for the comments. I got so many links to get through..lol!
Lv Ste
x