6/6/07
Hello good folk of journal land, I hope you're all fine and dandily!
Sorry that my entries are so far and few between lately, but I haven't been able to sit at my pc for a while. I'm trying..hehe!
So much has been happenin' lately, I dunno where to start.
I got a job at a place called 'Tesco's' which, for those who don't know, is a huge grocery place in the UK. I don't think it's worldwide...is it? I dunno, but yeah, I have a job there working on the tills. Yes it's mundane, annoying, boring (which is the same as mundane) but it's a job for now and while I'm there, it makes looking for another job much easier. I'd stay there, but I REALLY hate retail jobs. It's just not me, although I love the 'talky' side of customer service (cos I never shut the hell up!..lol!) The place is friendly and most of the staff are gay, so I fit right in..lol!
On another note, I think me and Ant moved back into Mum's (here) today but I'm not quite sure. I'll keep ya posted. We'll see how all of us living together goes for a while. FINGERS CROSSED!
It was Anthony's 24th Birthday today! It was a nice day, although I wasn't able to spend much on him, which really annoys me! Everytime June 6th rolls round, everyone seems to be skint (without money).
As I said though, it was a nice day and he enjoyed the 'Doctor.Who Dalek' cake I bought him from where I work (see pic). We're not big oldie Doctor.Who fans, but the new ones have been brilliant. Do they show the new ones in America? Hmm....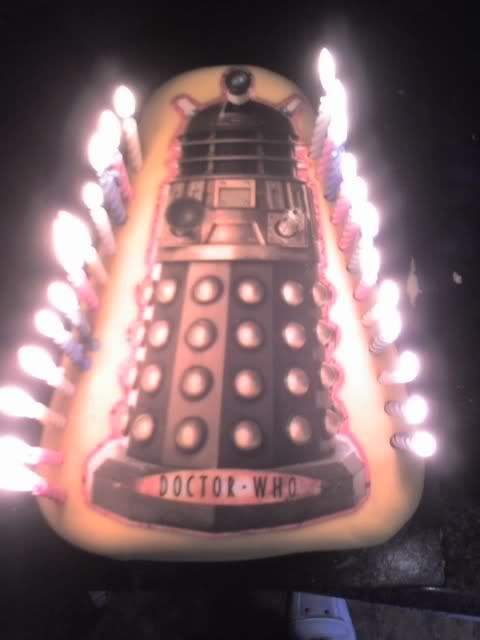 Anyways.........
I'm sat here listening to an old 50's mix from an old group called 'Jive Bunny'. They take all these golden oldies and mix 'em all together to make musical magic. It's wicked! Just realised how cool the songs 'Rubber Ball' and 'Oh Carol' are! lol! Oh and not forgetting the STUPENDOUSLY camp and brilliant 'Chirpy Chirpy Cheep Cheep' by 'Middle of the road'. Pure brilliance! lol!
Today, I saw a family that I used to see a lot just in passing by a few years ago, but since moving to Woodhouse with Ant, I never saw them and kinda forgot about them. That was until today when I saw them all again. It's amazing what a couple of years has done to the eldest daughter. She looked like a kid before, now she looks 28! lol!! Made me realise how fast things can change, but I take small comfort in noticing how the youngest son seems to have looked 6 years old for 10 years. That kid will never change! Ooh, I hope he's not a midget, otherwise I feel awful now! ;-)
Anyways, I'm rambling about pointless crud, so I'll catch ya all later!
Stay safe and be well,
Ste
xxx